Promotional Custom T-shirts
Your brand printed on T-shirts or singlets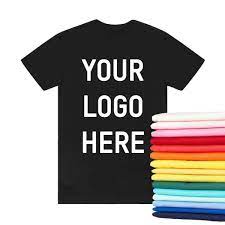 The range of products, events, and businesses that can benefit from wearing branded custom t-shirts is growing. A wide variety of companies could raise people's awareness of what they do simply by investing in some cool promotional gear, while maintaining a professional look. Smart T-shirts or branded polo shirts are a worthwhile business investment.
If you are looking for promotional t-shirts in arange of sizes , shapes or looks, You've come to the right place. We also produce custom branded hi vis workwear. With our massive range other products to promote your brand or event, you might want to bookmark this website.

Obviously, we sell all kinds of business apparel including business shirts alongside matching work shorts and pants.
Check out our extensive range of stuff in our branded products shop.
1. Conference Tees
Industry conferences are the perfect way to get employees looking like a legit team of professionals with your logo/brand on your custom t-shirts. These are not only a great idea for your staff, but can also make a pretty cool giveaway in any goodie bags you hand out to potential clients.
Don't forget to include a nice pen with your logo.
2. An upcoming event
If you are tasked with planning an event for your business or charity, another great way to get word out early is to get your event emblazoned on a set of promotional custom t-shirts or singlets.
Get people wearing them well in advance of the event and get word buzzing.
3. Your new product
Launching a new product?
Again, snazzy, custom made t-shirts with your business name and some cheeky teasers about the product is one way to promote your business.
4. Private parties
Custom t-shirts are perfect for private parties such as Buck's nights, 21st birthdays or 50th Birthday parties.
You are only limited by your imagination and bravura when it comes to what you have written on the tees.
Give one to every participant as a keepsake of an awesome night.
While you are at it, why not check out our range of hi vis workwear as well? You could dress the guest of honor in hi vis – a guaranteed way to not lose him (or her) during the night!
5. A new bar or nightclub t-shirt
It is a cutthroat business out there with new bars and nightclubs opening up post COVID-19 pandemic. Vying for customers' attention is everything. If you can get an influencer on social media to wear your branded Tee in a few shots, it can get the gossip started.
NB: Influencers are really just people with a lot of followers on Instagram or Pinterest. This could actually be your daughter.
6. An Upcoming Festival
Arts and music festivals need promoting more than anything else. What better way to get word out and also coordinate the hospitality and customer service staff at the event itself than to get everyone in uber-cool branded t-shirts with the festival logo on them?
For any staff at the festival co-ordinating security or traffic, you could also arrange branded hi-vis workwear with the festival details.
Get your staff standing out from the crowd.
7. Pop-up shop or restaurant apparel
Pop-up shops and restaurants are very popular right now – moreso after COVID-19. New spots open up every weekend, only to disappear just as quickly.
If you want your logo, product or business name to stick in people's memories long after the pop-up has closed, print some promotional custom t-shirts with your logo.
For more ideas on ways to promote your business, product or event, talk to our friendly team at Hype Promotions today.