793-3725; Quarto Management Twinlux Day to a Page Refillable Wiro Diary
Management Daily planner with mylar tabbed indexes and white ecological pages.
12 month calendar
Day-to-a-Page
Personal Information pages
Australia/New Zealand Notable Dates
International Dialling Codes and Public Holidays
World Times
Conversion Tables
Meeting Planner
Staff Holidays Chart
Address Book
PVC Business Card Sheets x 2
Black Ribbon Marker
Refills available.
STOCK: LOCAL
Cover Material: Armonia spine and internal/Veleta cover
Cover Style: Twinlux
Colours: Black/Navy
Product Size: 272 x 230 x 38mm (inc. tabs)
Page Size: 256 x 190mm
Page Colour: White
Page Orientation: Portrait
Decoration Options: Deboss, Foil stamp, Screen print, Pad print
Decoration Size: 40 sq/cm
Stock Diaires Minimum Order 50pcs – some stock items depending of stock availability maybe produced at lower quantities.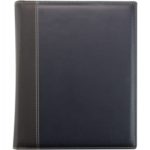 INDENT OFFSHORE: Minimum Order Qty of 250 Units
Ident Colours Veleta: Black, Navy Blue, Royal Blue, Red, Tan, Cyan, Burgundy, Dark Green, Mid Green, Light Green, Grey, Yellow, Purple, Brown, Pink, Orange, Beige
Indent Colours Armonia: Black, Navy Blue, Blue, Dark Green, Green, Green, Grey, Red, Tan, Brown
Cover Style: Crescent, Twinlux, Frontiere, Horizon, Wave, Island, Correa, Palo
Page Colour: Cream, White
Other Options: Stepped Index, Year Planner, Individual Carton, Ribbon Marker Colour, Gold/Silver corners, Address Booklet, Stitching
Leadtime: 12-14 Weeks